Welcome to the Singapore Lost Film Wiki

Edit
The Singapore Lost Film Wiki is dedicated to saving whatever information we have left of the lost films of Singapore's cinematic heritage which spans 84 years in 2010. Drawn from the Asian Film Archive's Lost Films Search, these titles are important parts of Singapore's film history and in the absence of the films themselves, we need to keep their memories safe and alive for our future.
Why Save Our Film?
Edit
Our films hold our memories. Through them, we can keep our past and present alive for our future.
As both cultural capital and historical record, films form a part of our country's collective memory and have the power to speak to every man. Films can recreate experiences the way no other medium can and pull people together across time and space in a single moment. Films might be one of the best ways to know a story and learn about our past.
Film preservation is a severely overlooked concern in Singapore where the community is unaware and do not understand the importance and urgency of film preservation. Many of Singapore's first films such as Xin Ke, Leila Majnun and Hei Jin are lost. By preserving our local films, we save our film heritage while safeguarding our memories of Singapore.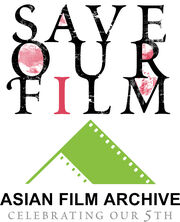 Archived Images (courtesy of Mr Wong Han Min)
Latest activity
Edit